UMM Options Menu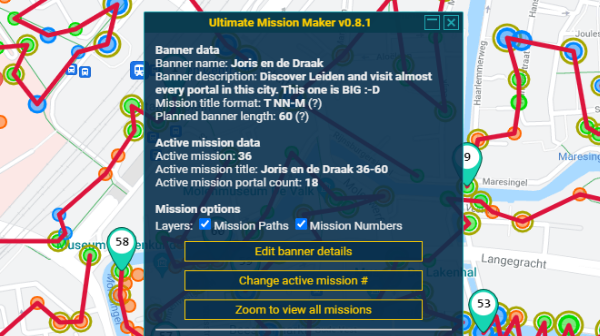 There are 2 ways to start a banner:
Either click the Start button on the IITC canvas or
Open the UMM Opt dialog from the canvas or from the right hand menu
This opens up the UMM options dialog: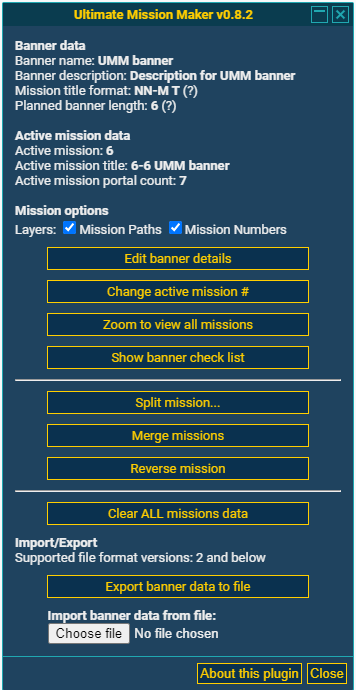 The upper part of the dialog shows the details for the current banner. We'll get into that in the UMM Banner Details post.
Followed by 2 tick boxes for layers, one to show/hide the Mission Path, the other does the same with Mission Numbers.
Then there is a series of buttons:
Edit banner details - Shows the edit dialog described in the UMM Banner Details post.
Change active mission # - Lets you change the active mission same as the Mission Counter button on the IITC canvas.
Zoom to view all missions - Set the correct zoom factor so that IITC shows the complete banner.
Show banner check list - Shows an overview of the banner, missions and portal objectives (for details se the UMM Banner Check List post).
Split mission... - Shows the split mission dialog described in the UMM Mission Splitter post.
Merge missions - All current missions will be merged into 1 mission.
Reverse mission - Reverses the order of portals in the chosen mission.
Clear ALL mission data - Resets all banner data.
Export banner data to file - Exports your data, in a json file, to the default download folder.
Import banner data : Choose File - Lets you import a json banner file. This will overwrite all banner data in the dialog.
The Usage Split, Merge & Reverse post will explain some cases for which you can use the split, merge and reverse functions.