Submit Your Banner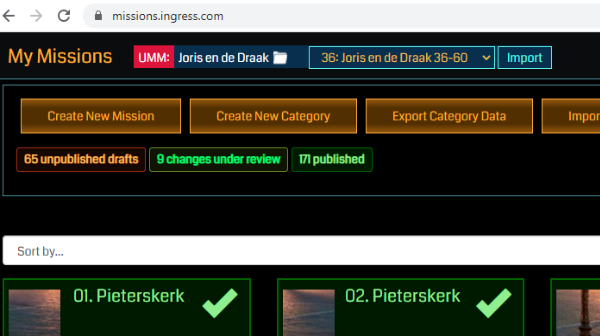 Submitting your banner is greatly simplified by UMM. Once you open Niantic's Mission Authoring Tool you will see the UMM plugin at the top of the page.

To add your banner complete the following actions:
You start by loading the json file you created by clicking the folder icon.
After that you click Create new mission and select one of the options. Most logical would be to pick SEQUENTIAL, but you can choose any of the options.
Then click Mission Details which will show the title, description and upload image tab.
At that point you select the correct mission from the mission selector in the UMM plugin and click Import.
Only things you will have to do is add the image and click Choose Waypoints.
You will see that all portals you added to that mission on IITC are now shown in the waypoint list.
Now click Preview Mission followed by Submit Mission and your mission is submitted.
Repeat steps 2 - 7 for all missions and your done.